About Goal Profits
Ever wanted to trade football profitably on Betfair? Well read out Goal Profits review as it does exactly that.
Goal Profits give you the tools, tips, and community expertise you need to become a successful football trader.
No scams, fakes, or fantasy football… just award-winning strategies backed by the support you need to succeed.
Goal Profits can confidently say that they are the best football trading tools around and our coaching will help you get a huge advantage over others on Betfair.
They are also nominated is the Betting World Oscars and win the top trading position each year!
Who are the award-winners behind Goal Profits?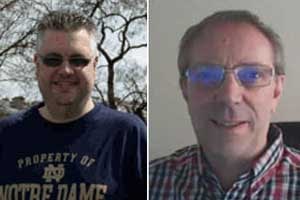 Steve and Kevin just like most people, we used to have day jobs.

We'd traded football on Betfair as a hobby, believing that our knowledge of football was enough to help us make a profit.

After emptying our trading accounts a few times, we slowly learned the mindset, discipline, and strategies required to make real gains.

From day one, Goal Profits determined to be different from the tipping services that seem to suck you in and spit you out the other side, battered and bruised from your losses.
We've built a system that's:
Profitable – for as many members as possible
Educational – teaching strategies rather than simply providing tips
Easy to follow – but using the latest technology to provide the 'edge''
Scientific – driven by sound trading strategies that work in the real world
Supportive – a real, service-focused football community
Over the years, Goal Profits has expanded, won awards, and become the leading football trading service around.
What's Included with Goal Profits
PROFITABLE TRADING STRATEGIES – a comprehensive portfolio full of winning formulas.
LAUNCHPAD – updated training resources to help beginners learn trading from the ground up, improving understanding and results.
LIVE STATS MODULE – track live stats of in-play games to highlight which teams are actively trying to score (or not)… easily monitor many games to grasp trading opportunities.
TEAM STATS – research and analysis is MUCH quicker than with any other tool out there: save time, access more matches, and base trades on more detailed and accurate information.
CUSTOM SHORTLIST PRO – have a conversation (literally!) with Team Stats; build customised shortlists with filters that highlight trading opportunities quickly and effectively.
CHAT ROOM & SUPPORT FORUM – watch what top professional traders do and get live trading guidance from mentors.
FREE TRADING WORKSHOPS – annual workshops and other social events bring our football trading community together as one.
DAILY TRADE SELECTIONS – from more than 60 leagues across the world.
PREMIUM CUSTOMER SUPPORT – unparalleled (yes… really!) level of customer service by live chat and email.
Extras with Goal Profit
Team Stats Database: 230,000 Football Matches and Growing!
Imagine being able to test your football trading strategy ideas on more than 230,000 historical football matches.

Our Team Stats Database has a record of every match played over the past 10+ years in 80 leagues worldwide and hundreds more are added each and every week.
We're not just talking goals and results though… our football database has virtually played each game through every season in order to record a huge number of pre-match stats. This allows you to research your own detailed system ideas within seconds.
We have designed the Database so that it's very easy for everyone to use. You don't need to know anything about database queries or Excel formulae, we handle all of that in the background so you get access to all the information you need with minimum effort.
Introduction to the Goal Profits Team Stats Database
The Team Stats Database allows you to see how football results are impacted by very specific filters and conditions.

For example, I can ask the Database to only show me results of matches when the home team was in the top third of the league table. I have also excluded the first five games of each season for each team which reduces the total number of 230,064 results to 187,572.

Within seconds, the Database has crunched though the 187,572 results and determined that 55,765 featured a home team in the top third of the league table.

It also shows me that just this one condition results in 11% more home wins than the average of all games.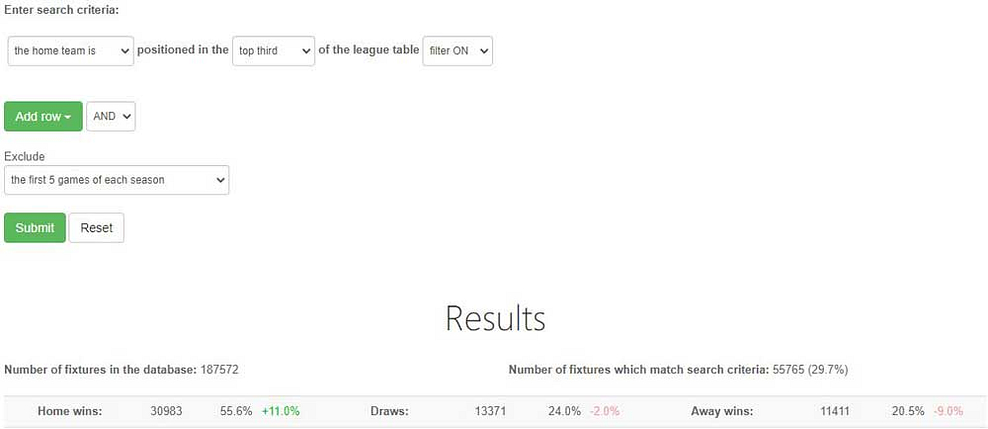 Now… that's just the top row of the full report because it's too big to screenshot. It actually looks like this!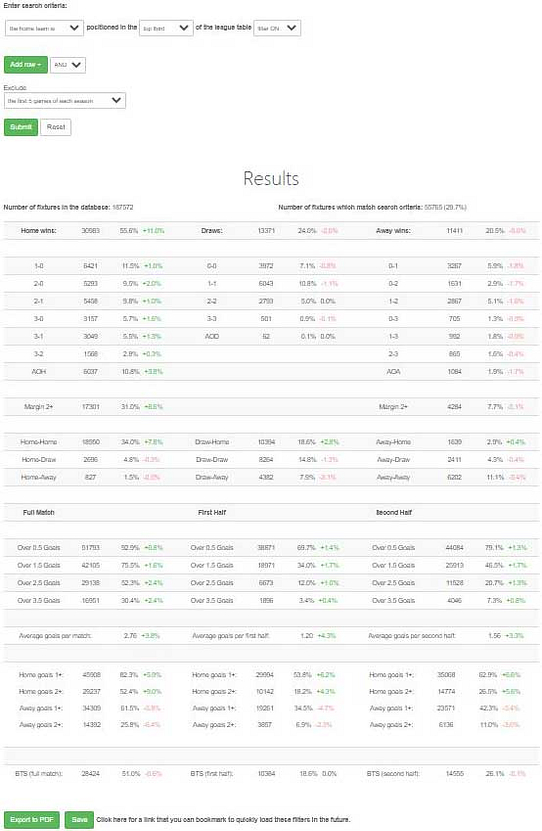 It's an incredible amount of detail which covers correct scores, double result, overs/unders, average goals, both teams to score and more.

You probably can't see much of the detail, but the Database also offers the option to export results to a PDF file. I have uploaded it so you can take a good look through all the results.
Custom Shortlist Pro: Goal Profits Find Football Trades in Seconds!
Imagine you click a button and a shortlist of potential trading opportunities pops up on your screen.
I remember what it was like to have a set of selection filters for a particular strategy and a list of dozens upon dozens of fixtures to check off… one by one… it was horrendous!
All I do now is click a button saved on my browser toolbar and a list of fixtures pops up, complete with full Team Stats. I then research a much smaller number of fixtures in more detail on the very same page.
I can't begin to imagine how many hours Custom Shortlist Pro has saved me!
---
Build Your Own Shortlist on Goal Profits
Back in the day, we designed a very simple shortlist builder. Unimaginatively, we called it "Build Your Own Shortlist" and Goal Profits members still have access to it today. It's a good starting point for beginners.
As you can see below, you're able to filter upcoming fixtures by various stats in order to produce a shortlist.
However, we're much more ambitious than that!
Does Goal Profits Work
Goal Profits were voted the best trading product available anywhere online in 2014, 2015, 2016, 2017, 2018, 2019 and 2020, receiving more votes than every other type of service.
Trading Football is very successful only if you follow strategies and learn from a mentor, trading can be hard work on your own and if you can learn mistakes from others then you are less likely to make them.
What do I need to do?
You just need a Betfair account
Time to learn the strategies, and the patience to pick out your trades.
We recommend a minimum starting bank of £500/€500, though preferably £1,000/€1,000 or more. The higher amount takes the pressure off allowing you to enjoy the experience and learn at your own pace.
How much profit will I make?
How dedicated are you? Everyone has different levels of experience and time they're willing to commit to trading.
While it's impossible to predict returns, we continue to see a number of members achieve their trading dreams and we'd love you to be our next success story.
Can beginners start with Goal Profits?
Yes, we have the perfect strategies for beginners. Many members who trade full-time also include the same strategies in their portfolios, as they work long-term.
Do you really have members who have given up their day jobs?
Yes. Quite a few of our full-time members have already become professional and more are on the verge of doing so. Other members use the strategies from Goal Profits to generate an additional income.
Whatever your goals, we aim to help you get there…